Key Investment Highlights
Commercialised InteliCare system, a predictive analytics hardware and software package for use in the aged care and health industries
B2B and B2C solutions, built on a proprietary IoT platform utilising smart sensors and artificial intelligence.
Industry leading suite of aged-care products developed to overcome fundamental limitations of traditional aged care monitoring with 24/7 access via a smart device application or online portal.
Flexible and scalable SaaS Platform using its open architecture which enables the technology to integrate with a wider variety of sensors, devices or complimentary services, when compared to closed-architecture systems based around a single-source manufacturer.
Generating monthly recurring revenue from subscription services under a SaaS business model
Large addressable market with people aged 65 years or over in Australia with the total population projected to increase from 15% at 30 June 2017 to between 21% and 23% in 2066.
Led by an experienced Board and management team possessing skills and experience in the commercialisation and scaling of innovative technology companies, including MD Jason Waller, former CEO of Spookfish (ASX:SFI).
Introduction
InteliCare Holdings Limited (ASX: ICR) is an Australian technology company focused on the development and commercialisation of the InteliCare system, a hardware and software as a service (SaaS) package for use in the aged care sector. Through InteliCare's B2B and B2C solutions which was built on a proprietary Internet of Things (IoT) platform utilising smart sensors and artificial intelligence, it aims to enable people to stay in their own homes for longer while empowering healthcare providers to deliver higher quality, more efficient services.
InteliCare's industry leading suite of aged-care products were developed to overcome fundamental limitations of traditional aged care monitoring. The industry leading machine learning system uses IoT data to detect changes in activity and behaviour patterns to provide peace of mind for family and carers through 24/7 access via a smart device application or online portal.
InteliCare's initial core strategy is to pursue the B2B market targeting retirement living and home care providers. InteliCare's recent partnerships with aged care providers in two states (both of which are assisted by government grants) will significantly expand and increase its market presence. The secondary strategy is to develop InteliCare Essentials, a low cost, entry level product to cater for the B2C market. InteliCare Essentials will initially be aimed at recipients of Commonwealth Home Support Program (CHSP) and Home Care Packages (HCP) funding, providing users a government funded technology solution to facilitate a route to stay in their home for longer
Offer overview
InteliCare Holdings Ltd is looking to undertake an IPO on ASX to raise $5.5 million via the issue of 27.5 million shares at an offer price of $0.20.
Key Offer Statistics
Funds raised from the Offer will be applied as follows: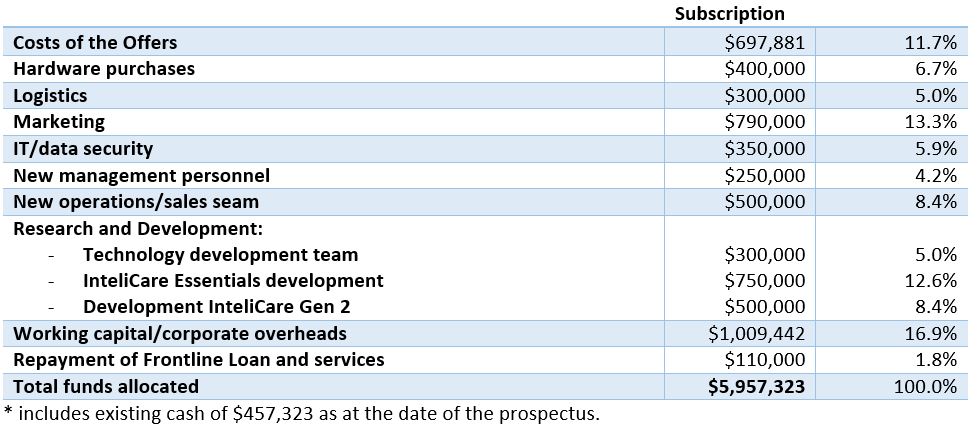 For further information on the Key Offer Statistics and Use of Funds, please see the Prospectus.
Industry overview
The proportion of people aged 65 years or over in Australia's total population is projected to increase from 15% at 30 June 2017 to between 21% and 23% in 2066. The aged care sector in Australia generates annual revenues totalling around $22 billion; making significant contributions to the Australian economy.
The Australian Government expenditure on aged care was $18.1 billion in 2017/18 and is expected to increase to $22.2 billion by 2021/22. Of the $18.1 billion in the system in 2017/18, nearly 70% of Government expenditure went into residential aged care; while only 21% of people in aged care were in residential care.
Most Australians who reach older age will require care and support, either from family members or from the formal care system. Around 80% will access some form of government funded aged care before their death. The aged care sector in Australia provided services to over 1.3 million Australians in 2017/18.
The Company will initially target the home care package section of the market, a $4.2 billion market segment.
Competitive Landscape
InteliCare intends to disrupt a stagnant market through its unique and innovative product offering. InteliCare is aware that there are competitors in this target market, but given the use of a predictive analytics engine hardware and software package in the aged care and health industries is a recent innovation, there is not yet a dominant technology focussed entity in the sector.
Companies that provide a similar product to InteliCare include Sofihub; Billy Care; Mimo-Care; Essence; TruSense; and HomeStay Care Ltd (ASX:HSC). Amazon and Google have recently expressed interest of entry into the Health Care applications of their own established in-home smart devices which could rapidly increase competition.
Growth Strategy
InteliCare plans to use the capital invested to target commercialising and scaling the InteliCare business as follows:
Marketing and sales: InteliCare's core strategy is to pursue the B2B market targeting retirement and aged-care living and home care providers;
Research and development: the Company intends to focus its research and development on the following:
InteliCare Essentials Package;
InteliCare Gen 2 (Home and Pro Product); and
machine learning and predictive analytics to leverage data and integrate real-time activity monitoring (rapid incident detection).
Logistics: Logistics, supply chain and stock management are key focus areas for InteliCare as it scales. InteliCare has existing purchasing agreements with key components providers and has experienced a reliable supply to date. InteliCare will scale and will look for opportunities to form direct relationships with other key distributors/ manufacturers to improve discounts, support and supply reliability.
Business Overview
InteliCare has commercialised a predictive analytics hardware and software package for use in the aged care and health industries. Australians deserve to age with dignity and through InteliCare's B2B and B2C solutions, built on a proprietary internet of things platform utilising smart sensors and artificial intelligence (AI).
The InteliCare System
The InteliCare System is comprised of three sub-systems:
InteliCare Hub
This is proprietary hardware component equipped with a micro-computer, a touch enabled display screen, a microphone and a speaker. It provides Internet connectivity and control functionality for the in-home sensors. InteliCare App users can be authorised to access 'Intercom mode' so they can talk to the resident and vice versa
Smart sensors
Motion, power, vibration and door sensors are installed in the home. Beyond the base configuration, users can also choose from additional sensors that further enhance the system, such as shower sensors, GPS pendants, smart watches and bed sensors. These provide InteliCare with information on activity within a household, including environmental conditions such as temperature, humidity and light levels. The sensors allow InteliCare to model what routine domestic activity is like within the home, such as the normal time a resident wakes up, meal preparation activity and sleep patterns.
InteliCare App
The "InteliCare App" is the primary interface for family members or carers (InteliCare App). If the household is following the normal routine, the InteliCare App provides assurance by sending an 'all OK' message. If InteliCare senses something is abnormal, such as lower than normal activity, it will send a pop-up notification to a smart device, such as a mobile phone, for the user to check in with the resident. If InteliCare detects a serious issue, such as failure to get out of bed or a duress pendant activation, it will send a push message as well as a SMS alert.
Access to the intercom feature enables audio into the home via the built in InteliCare Hub speaker and microphone.

InteliCare Pro
InteliCare has also developed a larger-scale SaaS offering for care providers (such as aged care facilities, home care providers or hospitals). InteliCare Pro integrates the InteliCare Hub and smart sensors with a dashboard system enabling many residents to be monitored at the same time. The product is currently available through leading aged and disability care providers, including:
SwanCare Group Inc. (SwanCare);
Extended Community Help Organisation Inc. (ECHO)
Whatever Support Whenever Pty Ltd (WSW); and
Technology for Ageing and Disability WA Inc. (TADWA).
InteliCare Home
InteliCare Home is a product that uses the InteliCare System to target the B2C market. It is based around the InteliCare App and is intended for families to monitor a single household. Multiple family members and authorised care providers can use the application simultaneously. InteliCare has received limited small-scale revenue from sales of InteliCare Home, but intends to further develop the product so that it can become an off-the-shelf, fully scalable retail product.
Revenue
As at 31 December 2019, the Company had deployed InteliCare Systems to 22 households through direct sales and pilot programs. Currently it has approximately 150 households from the rollout of the Echo and WSW Agreement. To date revenue has been derived from both InteliCare Pro and InteliCare Home products, plus ancillary devices. These have comprised a mix of paid pilots/trials, direct B2B sales and user-paid B2C sales.
InteliCare has three primary revenue streams:
Upfront revenue - sales of hardware: InteliCare's main component of hardware sales is the InteliCare Hub and associated smart sensors
Recurring monthly subscription/monitoring fees: InteliCare generates monthly recurring revenue from subscription services under a SaaS business model, and intends for this recurring revenue stream to become its primary source of revenue.
Services & integration Revenue - for wholesale clients: InteliCare's innovative and unique product offering is a new concept for residential aged care providers. Accordingly, InteliCare will provide project management services and oversee the installation and integration of the technology throughout the client's facilities. The project management will be a one-off service fee.
Key Board and Management
Mr Jason Waller - CEO & Managing Director
Jason possesses extensive experience in defence, aviation and technology including significant strategic, commercial, transformation and project delivery expertise. Between September 2017 and December 2018 Jason was CEO of ASX listed Spookfish (ASX:SFI) that was acquired in December 2018 by EagleView for $136 million.
Mr Greg Leach - Non-Executive Chairman.
Greg is a founder of InteliCare and has been in the Information and Communications Technology industry for over 30 years and during that time has established and continues to oversee multiple successful companies and held multiple executive level roles spanning management, technology and innovation.
Mr Branden Dekenah - Non Executive Director
Branden has in excess of 30 years' experience in technology and innovation, as a business founder, consultant and senior executive. Branden was co-founder and managing director at Conducive, which was sold to Empired Limited (ASX: EPD) in 2012.
Mr Scott Taylor - Non-Executive Director
Scott holds a Bachelor of Laws and is the founding Partner of Taylor David Lawyers with over 15 years' experience in reconstruction and insolvency law. He acts for Federal Government departments, Fortune 500 companies, global leading insolvency practitioners and foreign multinationals.
Mr Neil Hackett - Non-Executive Director & Company Secretary
Neil works closely with ASX boards, directors, CEO's, government enterprises and private boards on strategic and corporate governance requirements. Neil has project-managed multiple corporate transactions including public equity capital raisings, debt financing, corporate takeovers and business acquisitions and has 25 years' ASX company expertise.
Mr Mike Tappenden - Chief Technology Officer
Mike is a founder of InteliCare and has over 25 years of industry experience ranging from analyst to lead consultant to head of information and communication technology for a $3.5 billion mining project. During his career, he has defined and managed programs of work valued up to $200 million.
Risks
An investment in InteliCare Holdings Ltd is subject to a range of risks including but not limited to failure to limited operating history, future capital requirements, product development intellectual property, reliance on third party technology, product liability and competition and new technology risks. For more information read Section 4 of the Prospectus. These risks should be considered in detail.
Section 734(6) disclosure: The issuer of the securities is InteliCare Holdings Limited ACN 622 484 397. The securities to be issued are ordinary shares. The disclosure document for the offer can be obtained by clicking on the link above. This offer summary is not a prospectus, disclosure document, product disclosure statement or other offering document under Australian law or under any other law. It does not contain all of the information that is required in a prospectus prepared in accordance with the Corporations Act. The offers of the securities are made in InteliCare's prospectus, which was lodged with ASIC on 11 March 2020 (disclosure document). Investors should consider the disclosure document in deciding whether to acquire the securities. Anyone who wants to acquire the securities will need to complete the application form that will be in or will accompany the disclosure document (which can be done via the electronic application form which will become available by clicking the bid button above).
OnMarket has a limited allocation. The offer may close early and the 'Pay By' dates may change. Duplicate bids under the same investment profile, investor name or residential address may be cancelled.