Offer closed via OnMarket.
Update
AXS Group Ltd have released an Investor Update covering three key updates to the offer:
forecast revenues of $5.1 million for FY2019 and $7.5 million for FY2020. Strong growth from FY2018 revenue of $3.2 million
30 June 2018 financial information
an update its material contracts including the deployment with IA Financial Group's 25,000 brokers network. IA Group is a C$6 billion life and health insurance company in Canada. The new software license and price structure allowing growth in revenue to match growth in customer transactions and funds under management.
Based on the above FY2020 revenue forecast, this equates to EV/Revenue of 3.07x on max IPO raise of $3.5M. On forecast revenue we expect EBIT of at least $2M.
Read the the Investor Update here
Introduction
AXS Group Limited (ASX Code: AXS) is a global software provider of hosted, SaaS and cloud-based solutions to clients in the financial services and operates an end-to-end process architecture for clients in the wealth management sector. The company has a track record of successfully tendering and integrating businesses into its ARMnet software with approximately over 75 third party systems integrations performed for clients with varying customised solutions found. The ARMnet platform uses cognitive processes, including robotic process automation and blockchain techniques to give real time output, reducing time and cutting costs.
AXS provides its clients with a digital transformation through its internally owned and developed software platform, ARMnet. The ARMnet platform is a customer relationship management (CRM) financial product management solution that is built on an industry standard Microsoft dot.net framework. It enables clients to improve business efficiency, productivity and accountability, while lowering the costs and risks in delivering different kinds of financial services solutions.
On completion of the IPO, AXS Group will complete the acquisition of Axcess Consulting Group Pty Ltd the operating entity, which is a global integrated software solution provider to the finance, insurance and funds sectors and has grown organically and operated for over 13 years.
Offer overview
AXS Group Limited is looking to raise up to $3.5 million with an option to accept another $500,000 in oversubscriptions and will have an indicative market capitalisation of approximately $25.0 million at maximum subscription.
The proceeds of the offer will be used to:
expand the Group's executive, sales and marketing teams;
provide Working capital; and
cover the costs of the offer
AXS client base
AXS provides clients software services for varying business sectors including a strong position in the non-bank software lending market. These clients are geographically spread across North America, Europe and Asia-Pacific region. The business is characterised by strong recurring revenue and high levels of client retention, being approximately 90% since inception. The ARMnet platform is currently used to manage over $100 billion of assets and transactions for clients worldwide.
Key Clients: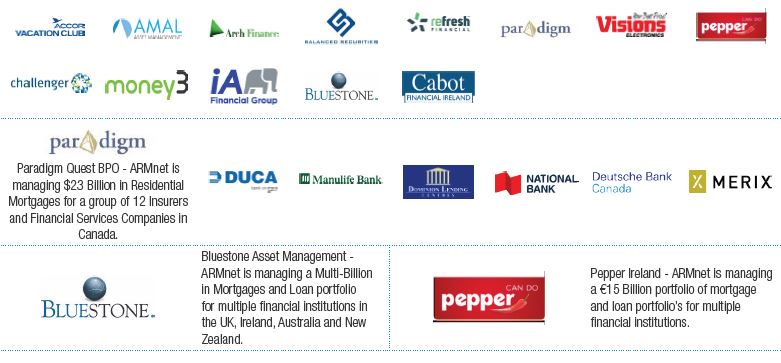 Revenue Model
AXS Group Limited revenues are generated by subscription and licensing, maintenance, personalisation and servicing fees, typically charged in accordance with agreed rates set out in service agreements with each respective client. Subscription and licencing revenues are recurring annuity revenue streams that contribute approximately 50% to total revenue.
The table below provides an overview of the types of fees charged by AXS.

Product Modules
Technological advances continue to develop in the back office which now offers the financial services industry the ability to do things more efficiently and cost effectively. The Company is to be a key driver in this market and from its ARMnet technology platform, operates two business lines: Platform Product Solutions and Service Solutions. The platform uses cognitive processes, including robotic process, automation and blockchain techniques to give real time output, reducing time and cutting costs.
AXS product offering is divided into 7 product modules on a subscription basis and 3 user services modules on the ARMnet platform. More modules will be introduced upon identification of further market opportunities with each based on pricing.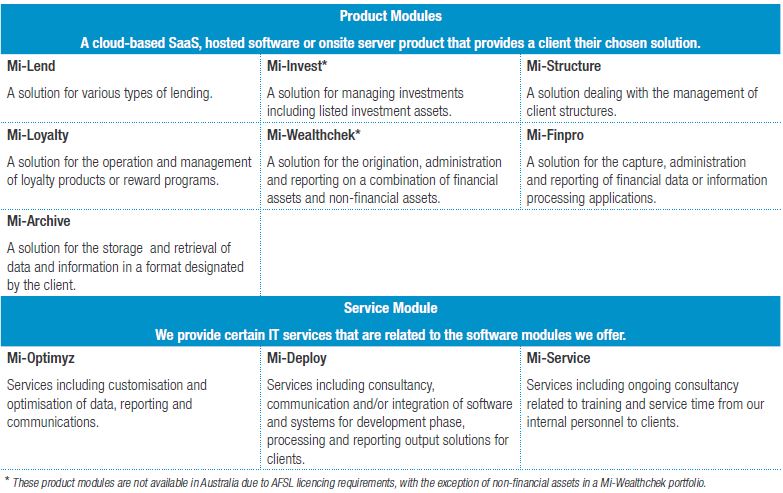 Industry Overview
The AXS Group currently focuses on providing its software platform solution to the wealth management industry, which involves businesses that provide investment services and financial advice, with the objective of supporting clients to grow their individual wealth. This includes business processing centres, mortgage providers, trustees, asset managers, family offices, private investor groups, public offer funds, and self-managed superannuation funds (SMSFs). As of June 2016, there were approximately 8,200 active businesses in Australia involved in financial asset investing, and approximately 4,000 superannuation funds (excluding SMSFs). There are almost 600,000 SMSFs, 1,500 charitable trusts that manage investments and over 25,000 active financial advisers.

AXS can be viewed as a provider of disruptive technology in the financial services sector, in which large companies, such as Fiserve and FIS Global, have traditionally dominated. Globally, total Information Technology ("IT") expenditure is projected to total US$3.7 trillion in 2018, an increase of 4.5% from 2017. Corporate business software use continues to exhibit strong growth, with worldwide software spending projected to grow 9.5% in 2018, and it will grow another 8.4% in 2019 to total US$421 billion.1 Organisations are expected to increase spending on software in 2018, with more of the budget shifting to software as a service ("SaaS").
Growth Strategy
AXS Group's growth strategies include:
Organic expansion. The Group intends to grow the use of the ARMnet platform and its product and service lines through increased marketing and promotion and the education of existing or new customers by its sales managers.
Cross selling of products and services. The ability to acquire companies with leading software capabilities provides the group with the opportunity to cross sell software products across their expanded customer base.
Ongoing growth in funds management. Revenues can in some cases be linked to the size and volume of its clients' underlying funds . In the event that AXS extends the nature of funds administration services beyond that currently offered, it will consider acquiring an AFSL to enable a further widening of its product administration offering.
Ongoing growth in superannuation in Australia. The Group believes it can leverage its ARMnet software expertise for super administration.
Expansion of operational footprint through acquisition. To accelerate the execution of the Group's strategy and growth, the Group may make strategic acquisitions of specific software providers or other synergistic businesses.
Group business across the broader Asia Pacific, Canada and United States region. AXS will continue to broaden its service offering software solutions into third party administration and business processing centres. This shall include expansion, both domestically and offshore into Europe, Asia and North America.
Board and Management
The AXS Group is led by a well-credentialed and balanced Board and management team with experience in the financial services, information technology and software development industries. This includes:
Nick Brookes (Non-Executive Chairman), founder of CCSL Ltd and until recently was the Chairman of Linear Asset Management Ltd.
David Grey, Managing Director and CEO - has over 30 years management, corporate and financial services experience and previously worked with Texas Instruments, AWA Limited, National Benefits Consulting, AM Corporation Ltd, Millinium Capital Group, AMP Superannuation Ltd, CUSCAL, Perpetual Trustees Australia Ltd and Australian Wealth Management Limited.
Ivan Colak, Executive Director - co-founder and director of Axcess Consulting with more than 30 years of domestic and global experience in technology services.
Andrew Duncan, Chief Financial Officer - is a Chartered Accountant with over 20 years' experience specialising in forensic accounting, transaction services and was accepted by the Institute of Chartered Accountants as a Business Valuation Specialist.
Risks
You are encouraged to read the Prospectus carefully as it contains detailed information about the Company and the Offer. Like all investments, an investment in the Company carries risk. As set out in Section 8 of the Prospectus, AXS Group Limited is subject to a range of risks, including but not limited to reliance on key personnel, risk of significant control by Existing Shareholders, replicability of business model or failure to retain existing clients and attract new clients.
Section 734(6) disclosure: The issuer of the securities is AXS Group Limited ACN 619 705 207. The securities to be issued are ordinary shares. The disclosure document for the offer can be obtained by clicking on the link above. The offers of the securities are made in, or accompanied by, a copy of the disclosure document. Investors should consider the disclosure document in deciding whether to acquire the securities. Anyone who wants to acquire the securities will need to complete the application form that will be in or will accompany the disclosure document (which can be done via the electronic application form which will become available by clicking the bid button above).​
OnMarket has a limited allocation. The offer may close early and the 'Pay By' dates may change. Bids over $10,000 may be scaled back more heavily. Duplicate bids under the same investment profile, investor name or residential address may be cancelled.