Update
The company has advised that a Supplementary Prospectus has been lodged and the offer has been extended until 26 August 2019. Announcement available here
Introduction
Trigg Mining Limited (ASX: TMG) is an explorer of the essential potassium fertiliser, sulphate of potash (SOP), which is needed for global food production and human nutrition. Founded on the purpose of building mines communities can be proud of, the company engages in the sustainable extraction and evaporation of hypersaline brines in Western Australia.
Sulphate of potash is a premium potassium fertiliser required for healthy plant growth, plant metabolism, optimisation of crop yields and quality of produce. It is a necessary fertiliser for high value, chloride sensitive crops such as avocados, cocoa, coffee beans, grapes, berries and tree nuts, as well as arid and acidic soils. Potassium is also of vital importance for human health where it is required for normal cell function, maintenance of cardiovascular health and prevention of stroke and coronary heart disease.

Investment Highlights
Strong global demand for fertiliser – demand for sulphate of potash fertilisers is strong. The world population continues to expand whilst the area of arable land per capita is falling, placing greater pressure on increasing productivity and crop yields to feed the expanding global population.
Opportunity to be Australia's first domestic supplier – Australian consumption of SOP is currently supplied by imports and Australia has frequent supply constraints from traditional suppliers, resulting in SOP imports coming from secondary producers.
Targeting premium markets – primary choice for high-value chloride sensitive crops such as avocados, cashews, almonds, cocoa, berries, stone fruits, citrus, all crops under glass and flowers.
Naturally occurring production method – Brine hosted SOP is a naturally occurring primary source of SOP and can potentially be organically certified (essential for organic farming) with other methods of production requiring secondary chemical processing, increasing production costs.
Competitive footprint – The Projects cover approximately 2,640 km2 containing more than 400 km2 of playa lakes and 300 km of interpreted palaeochannels.
Located close to established infrastructure - The Projects lie near existing transport and energy infrastructure.
Established exploration target - Exploration Target of approximately 15% of the total tenure area, based on historical exploration work, shallow pit sampling, geophysical surveys and air core drilling.
Share register includes Regal Funds Management – Substantial shareholding by Regal Emerging Comp Fund II.
Experienced management team and Board with significant expertise in mineral projects, project development and corporate finance.
Offer Overview
Trigg Mining Limited is seeking to raise A$4.5 million and will have an enterprise value of A$7.1 million at listing. The company is also offering 1 free attaching option on the basis of 1 new option for every 2 shares subscribed. Each new option will be quoted (ASX: TMGO) and will be exercisable at $0.20 per new option on or before 31 October 2021.
The Company intends to use the funds raised under the Offer as follows:
to fund exploration drilling, geophysics and support;
to establish bores and pump testing;
for laboratory and test work;
to pay for the Company's administration and corporate overheads;
for working capital; and
to pay for the costs associated with the Offer.
About SOP
Trigg Mining is engaged in the exploration and evaluation of SOP mineralisation, used predominantly as a mineral SOP fertiliser and is a valuable tool in crop management by positively influencing crop yield and quality. SOP nutrients play an important role in the development of proteins, enzymes and vitamins, as well as improving plant photosynthesis and growth. It improves nutritional value, taste and appearance (size, colour, and scent), fruit's resistance to deterioration during transport and storage and its suitability for industrial processing. SOP can improve the uptake of phosphorus, iron, and other micronutrients and helps the plant to be more resistant to drought, frost, insects and many diseases. In sandy soils it can also reduce leaching of cations such as calcium and potassium.
The Projects
The Company has built a competitive footprint across two SOP Projects: Laverton Links and Lake Throssell Potash Projects.
The Laverton Links Potash Project comprises three prospects (Lake Rason, Lake Hope Campbell and East Laverton) and is the Company's most advanced Project. The Laverton Links Potash Project consists of eight granted exploration licences covering a total area of approximately 2,315 km2. The Laverton Links Potash Project is located close to established infrastructure including roads, rail and three airstrips. Two gas pipelines pass through the Project tenements.
The Lake Throssell Potash Project comprises one exploration licence covering an area of 322 km2, situated approximately 200 km east of Laverton along the Great Central Road through to Alice Springs and Queensland via the Outback Highway. This Project lies approximately 60 km northeast of the newly established Gruyere Gold Mine and the terminus of the Yamarna Gas Pipeline
The Projects total 2,640 km2 of granted tenure, containing over 400 km2 of salt lake playa and 300 km of interpreted palaeochannels (ancient underground rivers) – all prospective for brine hosted SOP. Early exploration work has established a JORC Compliant Exploration Target of 2.5–9.0 million tonnes of SOP (at 4.3 – 6.3 kg/m3) for the Lake Rason Prospect, representing approximately 15% of the Company's total tenure by area.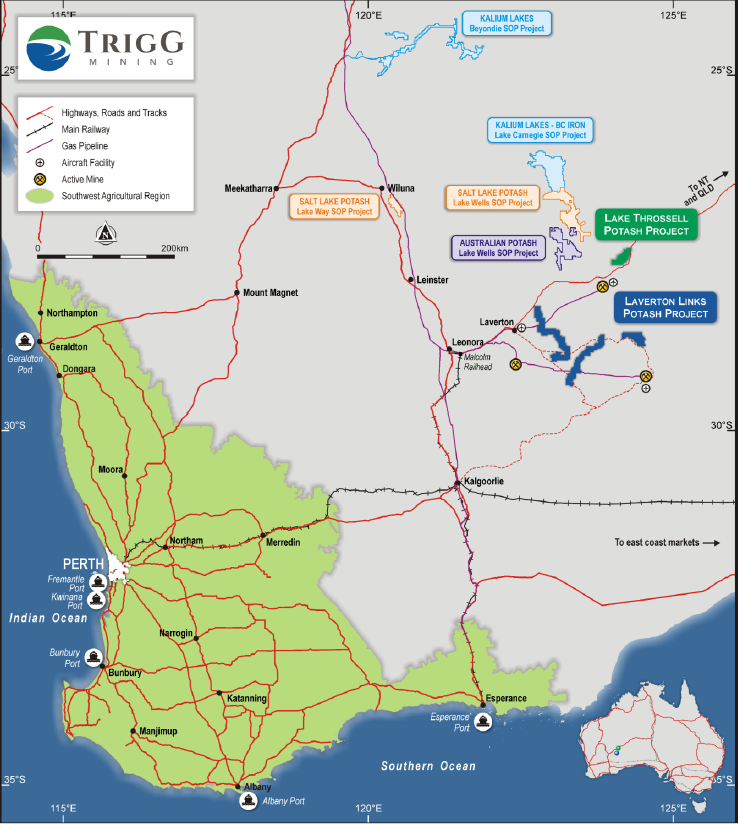 Access to infrastructure
Both Projects are well endowed in terms of transport and energy infrastructure. Multiple roads and tracks access the Projects and two gas pipelines pass directly through the Laverton Links SOP Project. Nearby airstrips are located at the Tropicana and Gruyere mines, as well as the commercial airport at Laverton. Logistics for access to domestic and international markets is, subject to negotiation of suitable access and infrastructure arrangements, likely to be via 300 km of road to the railhead at Leonora and then onwards via rail or road to domestic markets, or to international markets via the deep-water port of Esperance.
Industry Overview
In 2017, the United Nations estimated the world's population had reached almost 7.6 billion and would continue to expand at 1.1% per annum to reach 8.6 billion by 2030. In contrast, the world's arable land has decreased by more than a third in the 40 years to 2015 and fertiliser application rates have increased by approximately 30% in just the last 15 years. More people are going to need more food, and with global arable land decreasing per capita, the need for higher crop yields will become increasingly important for global food security. These higher yields will remove more nutrients from the soils, increasing the need to be replenished with the use of fertilisers.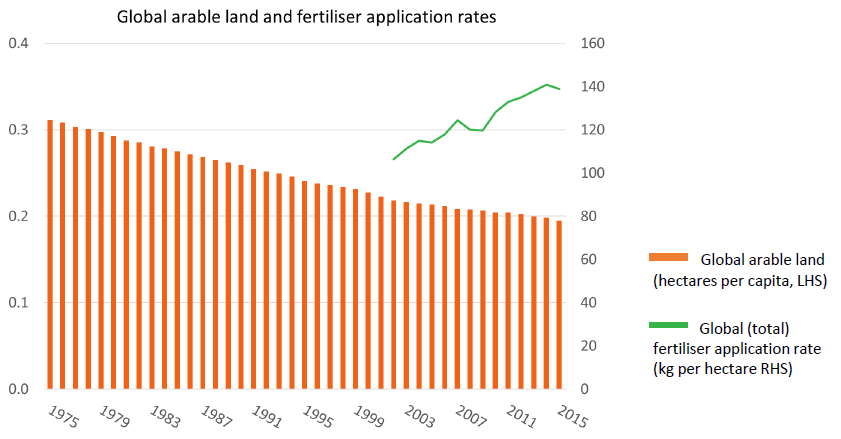 Natural production
About 35% of the world's SOP production is produced from natural brines via solar evaporation. It is a relatively low-cost, primary production method. Natural brines, such as that being explored for by Trigg Mining, are the only source of SOP to be certified as organic. For organic certification, SOP must come from natural sources with little or no processing, such as solar evaporation.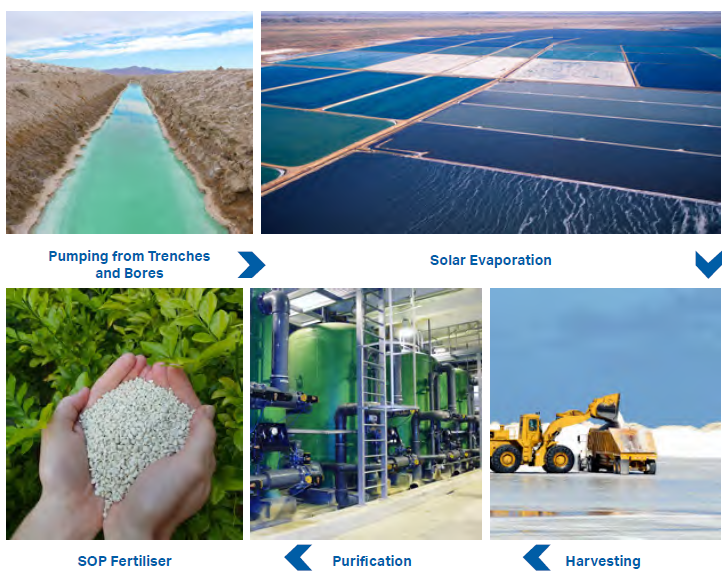 There are two other, non-organic methods for producing SOP, including sulphate salts reaction and the Mannheim Process.
Premium product
Given the inelastic nature of the demand for SOP and its exceptional qualities, produce growers are willing to pay a higher price for SOP and it effectively serves a separate market to muriate of potash (MOP), sustaining a price premium over MOP. Price premiums are further supported by the higher cost of manufacturing SOP in the Mannheim Process. By way of illustration, and noting that historic pricing differentials are not a guarantee of future differentials, on 13 September 2018 the stated landed pricing at the Port of Kwinana was $989/t (for SOP) and $618/t (for MOP).
Business Objectives
The Company's main objective is to complete the next exploration and evaluation phase which will involve:
carrying out further exploration work to seek to expand the Exploration Target, define a JORC compliant Mineral Resource and determine possible processing flow sheet options for the brine at Laverton Links Potash Project; and
conduct a heritage survey and undertake reconnaissance exploration at Lake Throssell Potash Project.
Management and Board
Trigg Mining Limited's Board has significant expertise in mineral projects, project development and corporate finance:
Keren Paterson, CEO and MD - recognised mining industry leader with more than 20 years' international experience spanning the entire mining value chain. Prior to founding Trigg Mining, Ms Paterson was the founder and Managing Director of a uranium company that listed on ASX in 2009. She has also held corporate roles with Fortescue Metals Group, CopperCo, Resource Capital Funds and Mainsheet Capital
Michael Ralston, Non-Executive Chairperson - experienced mining executive (previously undertaking roles as chairman, Managing Director and CFO) having worked for four junior ASX-listed resource companies over the last 13 years
William Bent, Non-executive Director - has 25 years' international experience in resources and corporate advisory. He is a Director of Mainsheet Capital and was the Managing Director of Chalice Gold from 2012 to 2014 where he led the acquisition of exploration and development projects for the company
Neil Inwood, Technical Manager - over 25 years' international geology experience in gold, base, and specialty metals. Significant consulting and venture capital experience in the last 15 years. Previously the Managing Director at Berkut Minerals, Executive Geologist with Verona Capital and prior to that, Principal Geologist with the international mining consultancy, Coffey Mining
Matthew Wheeler, Consulting Geologist - more than 20 years' experience in the Australian and international mineral resources sector. Has held exploration, resource evaluation, project development and management roles in a range of commodities including gold, uranium and industrial minerals. Extensive Western Australian experience including exploration and evaluation of surficial and palaeochannel sedimentary hosted mineral systems within the Yilgarn Craton, Officer Basin and Canning Basin.
Risks
You are encouraged to read the Prospectus carefully as it contains detailed information about the Company and the Offer. Like all investments, an investment in the Company carries risk. As set out in Section 13 of the prospectus, Trigg Mining Limited is subject to a range of risks, including but not limited to the nature of mineral exploration and exploitation, exploration target, the inability to attract brine volume, climate change and commodity price volatility.
Section 734(6) disclosure: The issuer of the securities isTrigg Mining Limited ACN 168 269 752. The securities to be issued are ordinary shares. The disclosure document for the offer can be obtained by clicking on the link above. The offers of the securities are made in, or accompanied by, a copy of the disclosure document. Investors should consider the disclosure document in deciding whether to acquire the securities. Anyone who wants to acquire the securities will need to complete the application form that will be in or will accompany the disclosure document (which can be done via the electronic application form which will become available by clicking the bid button above).​
OnMarket has a limited allocation. The offer may close early and the 'Pay By' dates may change. Bids over $10,000 may be scaled back more heavily. Duplicate bids under the same investment profile, investor name or residential address may be cancelled.