Update
The Company has advised that a Replacement Prospectus has been lodged with ASIC and the exposure period has cleared. As detailed in Replacement Prospectus, the Lead Manager has secured firm commitments for the $12 million minimum offer size and the closing date for the IPO has is now 31 January 2019.
Introduction
Uniti Wireless Ltd (ASX: UWL) is a fixed wireless broadband provider with proven high speed performance with the potential to provide an alternative solution to the nbn™ on a national scale. It is currently operational in suburban metropolitan Adelaide and areas of suburban Melbourne connecting residential, business and enterprise customer premises to its independent 'last mile' network. As a replacement for ADSL Internet and nbn™ services, it operates its network independently and does not rely on Telstra's ADSL copper network or the nbn™ infrastructure to operate or reach its customers.
The Company has executed a share sale and purchase agreement to acquire FuzeNet. FuzeNet was incepted in 2007 and operates the business of a retail service provider (RSP). FuzeNet's major fibre access provider has an additional 90 buildings under construction for CY2019 – a 39% increase over the current building portfolio for their core product and further expanding the Uniti Wireless network/tower capability.
The combination of both businesses is highly complementary in that FuzeNet has access to over 200 on-net buildings (towers) – almost tripling the potential of the current Uniti network of 113 towers.
Investment Highlights
Firm commitments for $12 million minimum offer size received by lead manager Bell Potter
Fixed wireless broadband provider with proven high speed performance and large geographic footprint with the potential to provide an alternative to the nbn™ on a national scale
Targets nbn™ Fibre to the Node areas where 35% of premises are unable to access nbn™ services above 50 megabits
Over 6,000 existing residential and business customers in Adelaide and Melbourne
FuzeNet acquisition provides a further 18,000 customers and national footprint for future growth
Forecast FY2019 pro-forma revenues of $23.1 million and EBITDA of $2.0 million
Lead by telecommunications veterans Michael Simmons (CEO) and Graeme Barclay (Chairman). Michael was previously 26 years with TPG Telecom Ltd, CEO of Vocus Limited and Director of M2 Group Ltd
The figure below illustrates the core components of the network and network architecture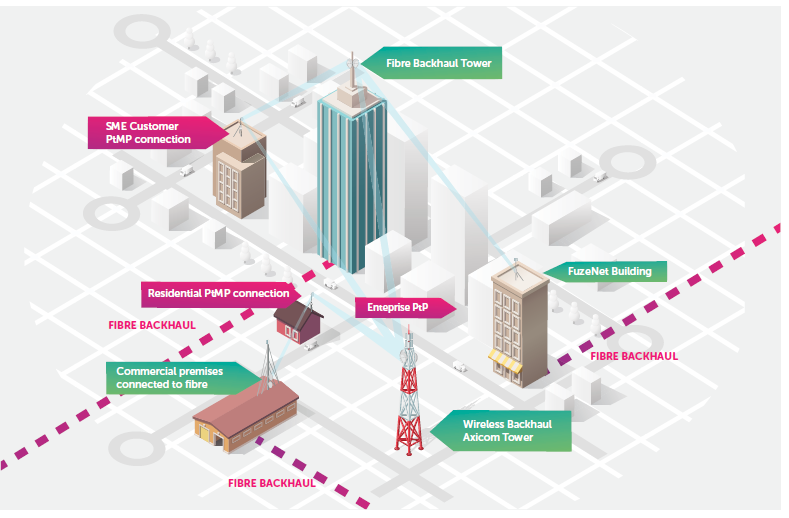 Offer overview
Uniti Wireless Ltd is looking to raise up to $18 million and will have an indicative market capitalisation of approximately $37.9 million at maximum subscription. The Offer is not underwritten, however, Bell Potter, as Lead Manager, has secured firm commitments from pre-Committed Investors to subscribe for $12 million.
The proceeds of the offer will be used for the following:
Acquisition of FuzeNet (including costs);
Fixed wireless network deployment across New South Wales, Queensland, Victoria and Western Australia;
provide sufficient growth and working capital; and
fund the costs associated with the Listing and the Offer;
Revenue Model
Revenue for Uniti Wireless comes primarily from the monthly fee charged to customers (ARPU), equipment sales to customers and set up fees (which under the new accounting standards adopted are recognised over the life of the customer). Uniti Wireless has continued to grow customer numbers and increase revenue each year, with Compound Annual Revenue Growth of 127.5% from FY16 to FY18 and 112% for FY17 to FY18.
A summary of the combined pro-forma historical income statements is set out below:

Business Strategy
The key business strategies of the Group (including FuzeNet once acquired) include:
nationally expanding its broadband network through FuzeNet's existing network footprint and RSP relationships with non-nbn™ fibre access networks;
increasing its customer base and pursuing small business, corporate, government and enterprise customers; and
following completion of the FuzeNet acquisition, transitioning the business to a telecommunications provider of both wireless and fibre access networks.
The figure below indicates the growth in Uniti Wireless towers following the FuzeNet acquisition.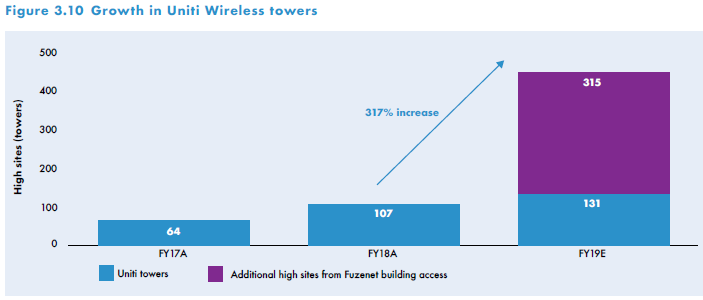 Customer acquisition
In order to increase its customer base, Uniti Wireless deploys a number of customer acquisition strategies, including customer referral programs, online marketing, sales and PR initiatives and partnering with channel partners. These customer acquisition strategies have contributed to a growth in active customer services.
The breakdown of Uniti Wireless' customers, as at September 2018, is provided below.

As shown in the figure below, at September 2018, the total number of active customer services had grown to 6,050 – an approx. 116% year-on-year increase. Over the 6 months to 30 September 2018, Uniti Wireless has added on average approximately 300 customers per month net of customer churn.

Geographic expansion
Geographic expansion into multiple regions and niche markets, coupled with an accelerated rapidly deployable low cost network, are key components of the Uniti Wireless national expansion strategy. Uniti Wireless has undertaken planning and analysis of potential roll-out locations in regions including New South Wales, Queensland and Western Australia.
The FuzeNet acquisition is an important contributor to the national expansion strategy for the reasons set out below:
allow Uniti Wireless to expand its product offerings to non-nbn™ fibre and nbn™-fibre access networks, as well as value added services on broadband and Internet connectivity access network deployments;
provide Uniti Wireless with access to FuzeNet's national geographic reach to assist with the establishment of national coverage and increase the owned wireless network footprint for fixed wireless;
the acquisition is expected to increase profitability (as Uniti Wireless and FuzeNet combined have positive EBITDA), improve net operating cash flows, and contribute working capital to pursue the national expansion strategy.
Board and Management
Uniti Wireless has an experienced Board and executive management team with significant commercial, financial and listed company experience. This includes:
Graeme Barclay (Non-Executive Chairman), currently CEO of Axicom Group Holdings Pty Limited (previously known as Crown Castle Australia). He was formerly Group CEO of BAI Communications for 11 years, during which the business grew domestically and expanded internationally, and diversified into private networks and transit location telecommunications networks.
Michael Simmons (CEO), most recently Michael served as Group CEO of Vocus Limited (ASX:VOC) on an interim basis, and prior to this led the Enterprise, Wholesale and Government business unit of Vocus. Michael also held executive positions with TPG Telecom Limited (ASX: TPM) and was employed by TPG for in excess of 26 years.
Che Metcalfe (Co-Founder & CTO, Executive Director), prior to founding Uniti Wireless, Che founded several startups over the past two decades, including telecommunications platform Podmo, digital incubator Mega and mobile gaming company Kukan Studios.
Sasha Baranikow (Co-Founder & COO, Executive Director), prior to founding Uniti Wireless, Sasha was a fast growth commercialisation specialist who worked in a variety of media marketing and production roles over the past decade. At Imagination Games, Sasha opened new business markets with the launch of multiple products into major AU/NZ retail chains.
Risks
You are encouraged to read the Prospectus carefully as it contains detailed information about the Company and the Offer. Like all investments, an investment in the Company carries risk. As set out in Section 6 of the prospectus, Uniti Wireless Ltd is subject to a range of risks, including but not limited including a significant level of competition in the market, significant disruption or failure of the Company's technological platforms, supply risk, and low customer take up of services and customer revenue.
Section 734(6) disclosure: The issuer of the securities is Uniti Wireless Ltd ACN 158 957 889. The securities to be issued are ordinary shares. The disclosure document for the offer can be obtained by clicking on the link above. The offers of the securities are made in, or accompanied by, a copy of the disclosure document. Investors should consider the disclosure document in deciding whether to acquire the securities. Anyone who wants to acquire the securities will need to complete the application form that will be in or will accompany the disclosure document (which can be done via the electronic application form which will become available by clicking the bid button above).​
OnMarket is accepting applications for the Uniti Wireless Ltd IPO during the Exposure Period. Applications made prior to the completion of the Exposure Period may be withdrawn. General applications received during the exposure period will not be conferred a preference over general applications received after the completion of the Exposure Period.
If a replacement or supplementary prospectus is issued, this will be provided to you along with the opportunity to withdraw your application.
OnMarket has a limited allocation. The offer may close early and the 'Pay By' dates may change. Bids over $10,000 may be scaled back more heavily. Duplicate bids under the same investment profile, investor name or residential address may be cancelled.